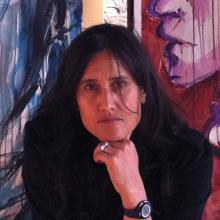 About me...
2013-present San Francisco, CA - Painting at home studio in Potrero Hill and drawing live models at 23rd Street Studio.
2011-2013 Two years experimenting in Paris, trying to figure out if I am an artist or not - painting on doors, large canvases, from travel photos, tiny sketches from daily life and travels. I painted and drew at La Grande Chaumiere in Montparnasse, Paris.
2004-2011 Seven years learning how to see and respond, drawing live models with charoal in the 23rd Street Studio in San Francisco, CA with Michael Markowitz.
2008-2011 Painted several murals for schools, volunteer projects and for myself.
1983-1988 Five years learning to paint and sculpt at The American University in Washington, DC. Trying to balance the right & left side of my brain, minoring in Studio Art while majoring in Computer Science.

I like to work big and fast. I'm intrigued by faces, figures and energy. I'm inspired by great street artists and impressionist painters. I like color. Recently I have been enjoying playing with anything water-soluble. I have also been experimenting by mixing traditional art and iPad technology. And finally, I love the saying "Honest Gesture". To me it means to respond to what you see without thinking first.
Latest work can be seen on my instagram @klpart

... or check out My Art Blog klpArt for work in progress
... see my Artist Profile on San Francisco's ArtSpan
... email me at info@kimpabilonia.com if you have questions.